Studio Hours: Tuesday-Sunday, 10 a.m.-8 p.m.
Create Your Own Masterpiece
Paint. Create. Experience.
Where Your Imagination and Creativity Can Flourish
A Warm, Inviting Pottery Studio With Endless Possibilities in Cambridge, ON
Expand your hobbies and discover a worthwhile activity by visiting Play With Clay Cambridge. We are an interactive drop-in pottery studio in Cambridge, ON, where guests of all ages and skill levels can indulge in pottery painting, pottery making, like clay hand-building, and wheel throwing. Whether you are a beginner or an experienced potter, we have something for you to enjoy.
We offer fun, exciting, yet relaxing activities, such as painting existing ceramics, kids camps, 7-week pottery classes, adult pottery workshops, birthday or any parties, that you can enjoy with your family and friends.
About Us
Established in 2017, Play With Clay Cambridge is a safe, engaging, and welcoming studio where you can explore and express your creative side, learn the art of pottery, and create your masterpiece. Our talented and skilled instructors have years of experience teaching hand-building, wheel throwing, and glazing techniques to make pottery projects successful. We also host clay parties for pottery painting, clay building, and wheel throwing in our studio.
Visit Other Play With Clay Shops Near You:
Testimonials

Testimonials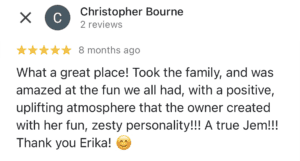 Testimonials
Testimonials
Testimonials