Pottery Making in Cambridge, ON
Unleash your creativity by making colourful mugs, plates, boxes and bowls at Play With Clay Cambridge. We offer a wide range of pottery making classes in Cambridge, ON, where you can learn the step-by-step process of creating different ceramicware from scratch.
Pottery Wheel 2-Week Session
$80/Session (suggested age is 8 yrs and up)
Our pottery wheel session is a one-on-one session with our trained instructors.
It includes 4 blocks of clay to try out with, unlimited glaze, firing of created pieces in our kilns.
Outcome is not guaranteed, but definitely a fun thing to try out!
Session Outline:
First Visit: Throw and Spin on the Wheel
Second Visit: Two Weeks After, You'll Be Trimming and Glazing Your Pieces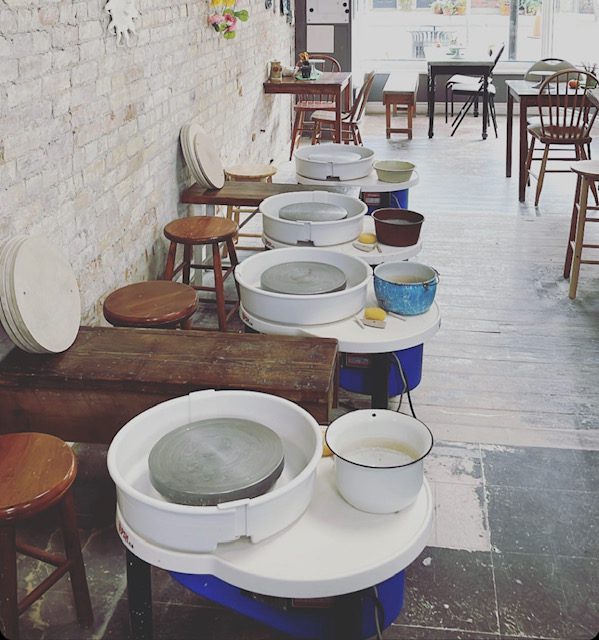 Contact Us For More Info
Hand-Building Sessions
Our hand-building pottery sessions offers students the opportunity to learn how to create beautiful works using different clay hand-building techniques.
Session Outline:
Our clay-building projects need two studio visits
First Visit: Build and Create
Second Visit: Glaze Your Clay Project (Can Be Shortened to 1 Visit With Building and Glazing/Limited to 1 Type of Glazing)
 
How It Works:
No Experience Necessary; Students of All Ages and Skill Levels Welcome to Join
All Tools Needed for Your Project Provided
Our Pottery Instructors Will Guide You Through the Process With Individual Demonstration/Instruction
Work at Your Own Pace; Take as Long as You Need to Finish Your Project
Learn Different Hand-Building Techniques, Such as Pinch Potting, Coiling, Slab, Molding, and Clay Puzzling
After Two Weeks, Glaze Your Pottery With a High-Temperature Earth-Tone Look or Use Colourful Underglazes
Projects Include Making Mugs, Bowls, Coasters, Animal Banks, Masks, Teapots, Trinket Boxes, Vases, Spoon Rests, and Much More
Each Clay Project Is Priced Individually Based on the Amount of Clay; Average Cost of Clay Building Starts From $30
Hand and Paw Prints
Play with Clay Cambridge is your hand and footprint destination. Visit our studio anytime, and one of our trained staff will assist you from start to finish in creating an amazing, long-lasting clay memory.
Baby and Toddler Clay Prints
$35 for One Print Impression With the Glaze Colour of Choice
$45 for Two Print Impressions With the Glaze Colour of Choice on the Same Plaque
Dogos and Kitties Impressions
$35 per Pawprint with Name and Colour
Clay Impression Keepsake With Your Choice of Glaze Colour
We Also Offer
Building Parties
Couples Dates
Bridal Parties
Corporate Events
Catering to Schools
In-Studio and Off-Site Sessions
Get Creative With Us
Contact us today to book your next pottery wheel class.